DIY portable winch system — Easily load a motorcycle in a pickup truck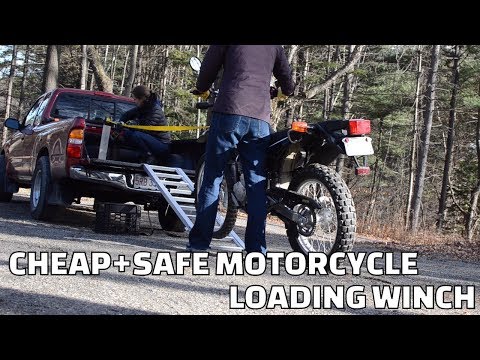 Watch the video of this project...
While you can load a dirt bike into a pickup using "umph" alone, I've always found the procedure daunting. The most challenging part is when the bike is on the ramp and the center of gravity is up near your shoulders. At this point, it's hard to push the bike, keep your balance, and find the step all at once. If you're big and tall, it's probably not a huge deal, but there's enough "bike loading fail" videos on YouTube to demonstrate I'm not alone in these struggles.
So the goal with this project was to create a mechanical advantage to load bikes slowly, safely, and confidently. The end result looks like this:
I started by securing a 900 lb. Capacity Hand Winch to a steel pipe with a u-bolt. (Square tube would be more ideal, but I used what I had laying around.)
On either side of the pipe is some scrap wood with rubber padding glued on — this lets the pole rest on the truck bed walls without slipping or rolling.
Finally, some 12" Soft Loop Tie Down Straps and Carabiners w/ Screw Locks are added — this is what secures the pipe to the D-Rings in the truck bed.
So that's the system. Installation is easy — just drop it in and hook it up to the truck's D-rings. A 2x4 wedged under the winch helps keeps the winch's tendency to twist once the bike is pulling on it.
Using two more of the soft loops, you can attach the winch strap to the bike forks. Then, while a buddy holds the bike level, start winching the bike in.
Final notes
What I like about this system is it's completely portable and requires no modifications to the truck bed itself.
In terms of strength — it does well because the force seems to distribute across a few different points. The majority of pull is on the soft loops and d-rings, but some of it's also pushing down on the 2x4 and side of the bed walls.
Of course, a downside of this system is it does require two people to load, and it's not exactly fast — but it works. If you wanted to load the bike solo, you could swap in a small powered winch with a remote.
Once the bikes are loaded, the winch can be removed and stored between the bikes, leaving you enough room to snug the wheels up to the cab in order to close the tailgate.